Article
Edit
|
History
|
Editors
One Thing Sell Or Trade
There are two main ways of selling or trading RPGs from your collection.
The first is to simply post it to our Trades forum: RPG Geek Trades Forum. This is the most immediate way to see if there is interest.
The second way is more long-term and uses the database to indicate that you've got an item for trade (so people can find automatic trade matches using the Geek). If you have an item that you want to sell, you can go to the item in question (in this example, we're looking at the Pathfinder Roleplaying Game: Beginner Box) and then find the BGG Marketplace module which is located about half-way down the listing:

Use the Sell>> link to list your item. It will then appear in the little Marketplace box for anyone browsing that item. The transaction is started on BGG but payment and shipping is arranged by the buyer and seller. BGG gets a small percentage (far 1less than ebay!) for the sale.
If you have an item for trade, you do that through the User Information module at the bottom of the item. For example: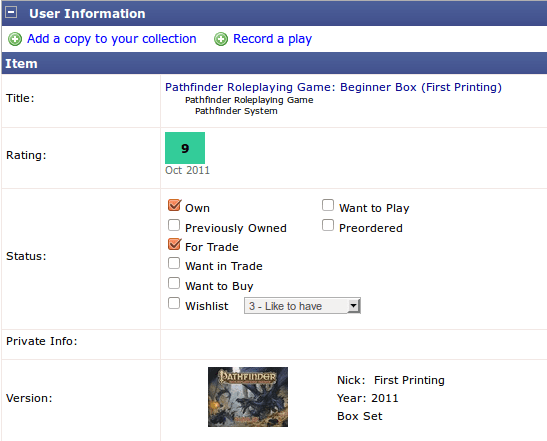 And then users who are browsing an item can find trade matches or see what items you have for trade:

Return to the User Guide
[What Links Here]