Article
Edit
|
History
|
Editors
One Thing Review Games
Entering a review for any game or item in our database is as simple as making a forum post. The trick is that it must be a specific forum that you post into.
First, locate the game or item in the database you wish to review. Let's say you wanted to review Fiasco. When you're looking at the item entry, scroll down to the Forum module. This module, by default, shows all posts made to the item. You can select Reviews to filter only on reviews - this will show you all reviews (if any) that have been written for the game.


To post your own review, select Post>> and you will be taken to a new form that lets you enter a subject and the body of your review. Be sure that you are posting to the Reviews forum. If you post to the general forum or some other forum, it will not get loaded into the Reviews module on the front page and it will not be properly attached to the item you are reviewing.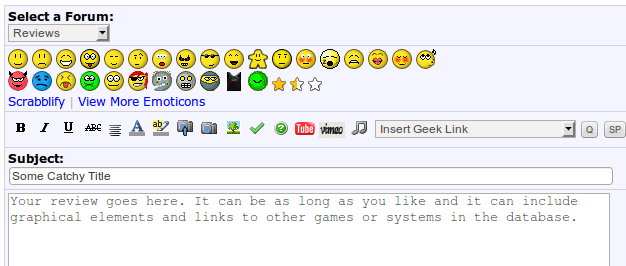 When you are done, hit SUBMIT to enter the review into the pending queue. The userbase at RPG Geek will Geekmod the review and within a day it should appear on the front page and it will be attached to the right item for all time.
For some advice on writing reviews, see our RPG Review Guidelines or the dicussions linked under Review.
Return to the User Guide
[What Links Here]