Article
Edit
|
History
|
Editors
One Thing Find Gamers
There are several ways to find gamers who are geographically near you.
Searching in the Gamer Database
On your profile, you can edit your preferences to be included in the gamer database.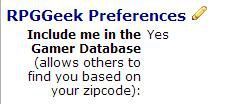 You can search for others who have opted in to that database. Hover over Misc on the menu bar and choose Find Users. This takes you to a page with several search options, including Find Gamers. Clicking this takes you to a form to search in the gamer database.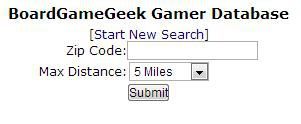 Enter your search parameters and hit submit. It will provide you with a list of usernames.
There is also a version that uses GoogleMaps.
This search presumes a US zipcode so doesn't work for non-USA residents.
Other Methods
Another way to find gamers near you is to search for a guild of gamers for that area. See More About Guilds
You could also post in the Conventions and Meetups section of the Forums to get responses from people who live near you.
Return to the User Guide
[What Links Here]