Article
Edit
|
History
|
Editors
One Thing Correct Data
If you believe that information listed in the database entry for a game or item contains incorrect information or is missing information, you can submit corrections. Please be sure that you are looking at the right item and you might want to read over the Data Entry Guide to make sure that you are correcting genuine problems.
At the right hand side of the information section when you are looking at the entry for that game or item, you will see an option for Corrections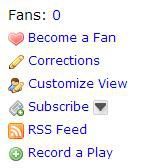 When you click this link, it will take you to a form that contains all the available fields and the current information for that game or item. Let's you you think the genres listed for a game aren't correct. Scroll down to that section.

If you think one of the genres listed isn't accurate, you can click the red x to remove it. If you think there should be another genre listed, clicking on the green + brings up a list of the available genres for you to select.
Once you've made all the corrections you think are needed, fill out the note to the admins giving information about your corrections and then hit Submit.
Your submitted corrections will be reviewed by an admin before they go into the system.
You can earn Geekgold for corrections in the same way as submitting new items.
Return to the User Guide
[What Links Here]