Article
Edit
|
History
|
Editors
One Thing Contact Someone
All registered users in the system can be contacted via Geekmail. In order to contact someone, you will need to know their username.
Finding someone's username
You can search for registered users of the site using any part of their name by choosing Users in the search dropdown menu.

Your search success will depend on how much of their name is in their public profile information.
If you know that the person you are searching for is connected with a particular game or item in the database, you can search for that item. When you are looking at the item's entry, the top level information module contains listings for designers, artists and production staff. Clicking on the name there will take you to their own database entry. If that person is on the system as a user, it will often be noted here.
Once you know their username
On a user's profile page, there is an option to Send a private message to at the bottom of the page. You can also click the envelope icon that appears under their username anywhere they post around the site.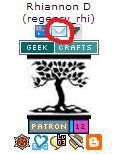 Clicking this will take you to a new form that lets you compose a message to that account. When you've finished writing your message, hit SEND.
You can learn more about your own Geekmail account at More About Geekmail.
Return to the User Guide.
[What Links Here]