Article
Edit
|
History
|
Editors
More About Polls
You can add a Poll to a forum post by clicking on the green check mark in the row of icons over the text area (right next to the icons for adding images).
This gives you the poll editing area. Please note that the green check mark doesn't appear if you're using 'QuickQuote' or 'QuickReply', you need to use either 'Quote' or 'Reply'.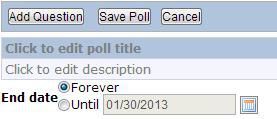 The title and description of the poll are editable by clicking on the boxes. The poll's title is limited in format, but the description can access some of the normal forum formatting options, such as images.
Clicking 'Add Question' gives you the option of adding several different types of question, including multiple choice with one or multiple answers or a matrix with single or multiple answers per row. Clicking on your choice of question brings up text boxes to enter questions and answers.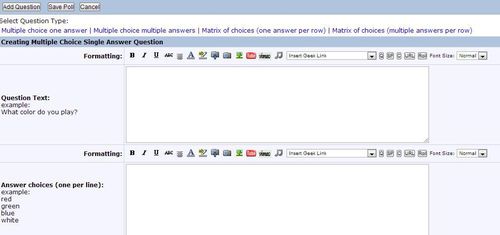 Answers must be entered one per line.
Once you've entered your information, hit save to save that question. You can add more questions, of any type.
You can also specify an end point for your poll, beyond which it won't accept results.
Once you've finished entering all of your questions, hit 'Save Poll' to create the poll in the forum post. Once you hit save you cannot edit the poll, so make sure it is correct. It will display in the text box as [poll=NUMBER]. When you submit the post, it will appear as a poll.
You can toggle between the questions and the results of your poll.
For advice on getting the most out of your poll, in terms of how to define questions, etc, look at this advice.
Return to User Guide
[What Links Here]