Article
Edit
|
History
|
Editors
More About Podcasts
There are currently almost 200 RPG-related podcasts logged into the RPG Geek database. These are not quite like the more traditional database entries (books, magazines, etc) since Podcasts are entered using their RSS feed. You don't need to know exactly what that is - only that the RSS feed automatically brings in the content (show logos, show notes, episode contents, etc) directly into the RPG Geek on a regular schedule. When a new show is released (usually said to have "dropped" as in: "a new episode just dropped") the RPG Geek will pick up the new show based on the RSS feed within a few hours. Pretty slick!
To see a list of all the Podcasts we currently log:
http://rpggeek.com/browse/rpgpodcast
Every episode of every Podcast listed here at the RPG Geek can be listened to directly via a small flash player that most browsers have enabled. Alternatively you can just download a playable file (usually an MP3) of the show. To see a list of all episodes (in chronological order with the newest at the top):
http://rpggeek.com/browse/rpgpodcastepisode
When you click down to see a specific episode, you should also see the little plug-in player to listen to the show directly from the feed:


There is also a Podcast front page module (which is turned off by default) that you can add by selecting the Edit Front Page link in the RPGG Newsmodule (located on the front page).


This frontpage module will pipe in the most recent X (default=10) podcasts. Here is what mine looks like (I changed mine to show the most recent 12 podcasts):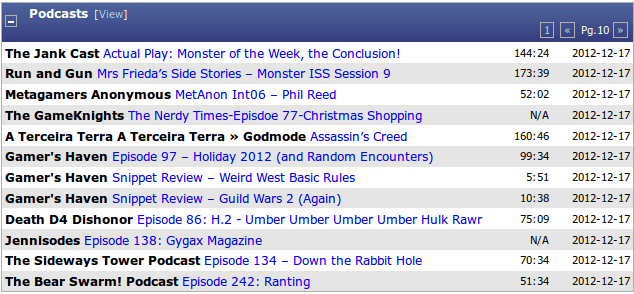 If you subscribe to any given podcast, you will get a subscription notice here on the Geek when a new show is available to listen to.
There are podcasts for every taste and type of RPGer. I'm on an oD&D and AD&D kick right now... I also listen to a load of good theory podcasts and general DM/Group advice 'casts. Feel free to recommend some of your favs below (with links to the Podcast listing here on the Geek)!
Return to the User Guide
[What Links Here]