Article
Edit
|
History
|
Editors
More About Microbadges
Microbadges are those little 16x16 slices of pixel-joy that sit below our avatars. In this image, you can see the user 'wavemotion' has 5 such microbadges displayed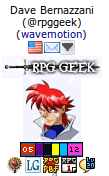 You can choose to display no microbadges up to a maximum of 5. Most microbadges cost 8 GeekGold and you purchase microbadges directly from your profile page. A few microbadges are awarded by the system (for example, for contributions you make to the Geek, promotional giveaways, contest participation, etc) but most can simply be bought with geekgold. Hovering your mouse cursor over any microbadge will show some overtext associated with that badge. You can also click on any microbadge to see who else owns the microbadge (a nice way to find all Pink Floyd fans, for example!). A few special microbadges such as

or

allow you set a custom URL for those badges (meaning anyone that clicks on those microbadges can jump directly to your Blog entry or your Twitter page).

For reading the User Guide you can claim any one of the special RPG Geek Destiny Kanji badges:





. Just send a Geekmail to Stelio and request your free micro. Please specify what color you want.
To display a microbadge under your avatar, you go to your profile page by clicking the 'My Geek' menu item a the top of the screen and selecting Profile.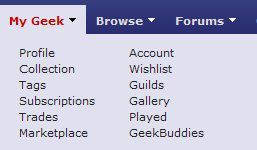 My Geek Menu


And on the left-hand side you will see an option to Purchase a new microbadge or to Edit your existing microbadge collection. Edit is where you can configure what is displayed under your avatar.

A tiny sample of the more than 10000 microbadges we have in our system:

For more information, go to Microbadge

Return to the User Guide
[What Links Here]