Article
Edit
|
History
|
Editors
More About Geekgold
Geekgold is a virtual economy used here at the RPG Geek. When you submit reviews, session reports, images and enter new data into the system, you are awarded geekgold (usually abbreviated gg and shown with this icon:

). You can spend this geek gold on a wide variety of things - a new avatar, microbadges, to tip other posters whose work you enjoy and even some RPG auctions are run using only geekgold! While earning and spending geekgold is not required for your use of RPG Geek, we find that it can be an enjoyable experience.
Now... as a reward for anyone reading this far into the User Guide (good for you!) you can send me a geekmail to Stelio and put in the geekmail the secret phrase "CROM!" and I will give you 8gg so that you can get any RPG Microbadge you want. The geekgold you earn over on BGG and that you earn on RPG Geek is the same - it is completely interchangable.
How to Get More Geekgold
There are many ways to get new geekgold. But here are some of the more common ways.
Submitting RPG Content (new game, new item, new magazine) earns 1-5 Geekgold (we tend to give more for better submissions)
Entering corrections for existing database entries (0.5-2 Geekgold depending on number of corrections)
Writing Session Reports or Reviews (1-5 Geekgold based on Geekmod - these are often tipped additional Geekgold as well by 'wealthy' users)
Submitting new files (character sheets, player aids, etc). 1-5 Geekgold depending on quality of the submission
Being a Geekmodder - helping to approve images and reviews/session reports will get you a few geek-pennies which add up over time!
1 Geekgold per $1 donated to the site. With Year-End bonuses which often total 75+ Geekgold.
Auctioning items (virtual or physical) in exchange for Geekgold (see More About Geekgold Auctions)
Putting items (virtual or physical) up for lottery in exchange for Geekgold (see More About Games for Geekgold)
The Art of Tipping
When you see an article or post from someone, at the left low side you'll see a little gold coin which you can click to enter a tip (can be as little as a 0.01gg -- a "Geek Penny"). It's a great way to show that you found something valuable! This is especially great to do when you've accumulated a bit of geek gold and wish to spread the wealth to others (especially new users who struggle to get enough to buy an avatar or microbadge). Most small tips do not need special thanks or acknowledgments but if you get a large tip (say, over 5gg) it's polite to drop the person a note and thank them. Here is what the geek gold coin looks like (this image also shows that the poster has received 0.25gg already for his efforts):
Tip Area
Geekgold Management
In your profile, there is a tab labelled GeekStuff. Under that option you'll see a display of your geekgold history with the site - the total amount you have ever had, the amount you've tipped, and your balance.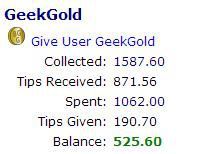 Your collected and spent totals are links. Clicking on those takes you to a page that lists each individual amount you've been given or have spent so that you can keep track of your transaction history.
Return to the User Guide
[What Links Here]