Article
Edit
|
History
|
Editors
More About Geekcurrent
Geekcurrent is a real-time update of user collection activity here at RPG Geek. It caches back the last hour or so of updates and auto feeds in new updates people make to their collections. This includes marking something as owned, wanted, rating a game, adding a comment, revising a comment, etc. It's a bit like the Twitter trending only it works on site-based collections. When you access it from the RPG Geek domain you get only RPG Geek results. When you access it from BGG you get boardgames (and there is far more activity over there though we'll catch up!).
Why is it useful?
Great question. We have no idea - but it's addicting to watch. It might have been designed as a pacifier to lull us all into a false sense of calm.
You too can be mesmerized by GeekCurrent anytime you want by selecting the Misc->GeekCurrent menu item or directly at:
http://rpggeek.com/collection/current
There is even a chat window where you and fellow geeks can discuss the collection activity. Looks like the chat is cached for 30 minutes (that is, you can see back in chat history 30 minutes when you enter the room).
Here is an example of what Geekcurrent typically looks like: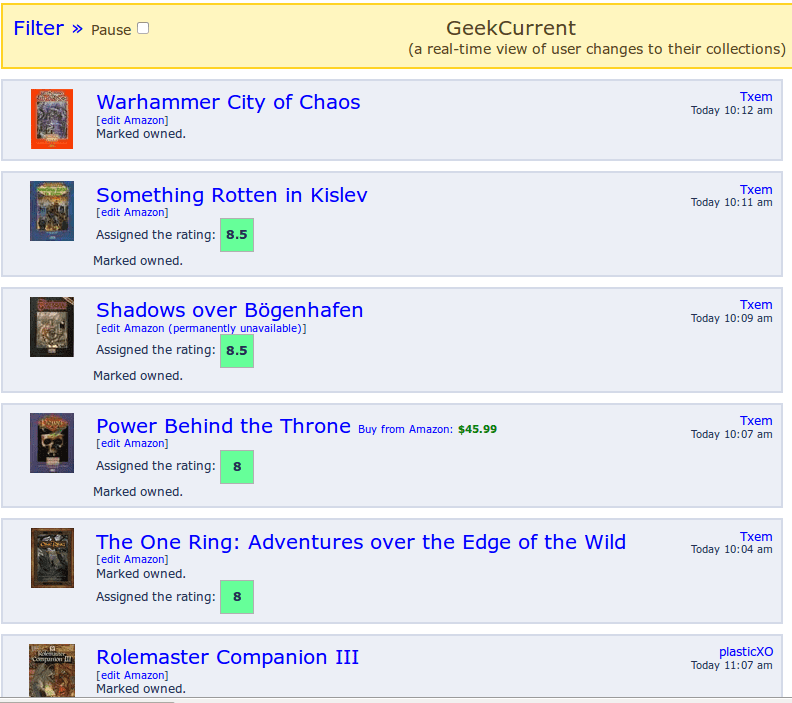 Return to the User Guide
[What Links Here]