Article
Edit
|
History
|
Editors
More About Files
Every game or item in the database can have user generated content associated with it, and this includes files.
To find files associated with a game, first locate the game in the database and scroll down its entry to the Files section. You'll see a list of all the files; clicking on one will take you to the page for that file, where you can download it as well as thumb or tip the file.
To submit a file for a game, go to the Files section of the appropriate database entry as if you were looking for a file. Click Upload File. This will take you to a page that allows you to upload a file.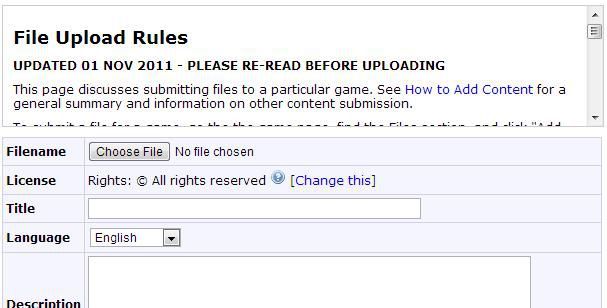 Click on the Browse button and find the file on your local hard drive. Enter a brief description and click on the submit button to upload the file to the database. See File Submissions for more details on file upload rules.
Files will not be immediately accessible, as they are submitted for approval to site admins to ensure they are virus free and adhere to guidelines. You can help speed up the approval process by making sure that your description includes the information specified in the guidelines given in the file upload rules on the file submission page.
The type of files that are frequently uploaded include translations of rules, player aids such as summary sheets, and modules and adventures written by users.
Return to the User Guide
[What Links Here]