Guild
Guild:
Category:
Created On:
2012-05-22 18:24:58
Members:
240
Manager:
Collections:
Browse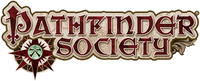 This guild is to give a centralized location for all of the sanctioned Pathfinder Society PbF games to be organized, so we're not always spamming the main forum.
All are welcome! If you're looking to play sanctioned Pathfinder Society games via the RPG Geek forums, this is the guild for you.
As we move forward, I hope to establish regular groups of players that take turns rotating out as GMs when possible. Given the nature of the sanctioned modules being "bite sized", they should do very well on PbF status.
Here's to a hopefully great future!
Below are several links to useful threads or files.